Screen Sharing services provide applications for both personal and professional use. This means that if you are a computer technician, you can remotely solve your client's PC problem, or you can attend virtual office meetings if you are an office employee. In addition, this screen sharing service is very useful for completing a project in a cohesive way or as a teacher to visually guide students.
There are many screen sharing software available in the market, some of which offer free services and some charge for services. However, most of them offer free service for personal use with some limited features. Also, many screens sharing mobile apps are available in the market. Here I am discussing some of the free and paid software that I have tried myself. That is why I advise you to use them too.
1. TeamViewer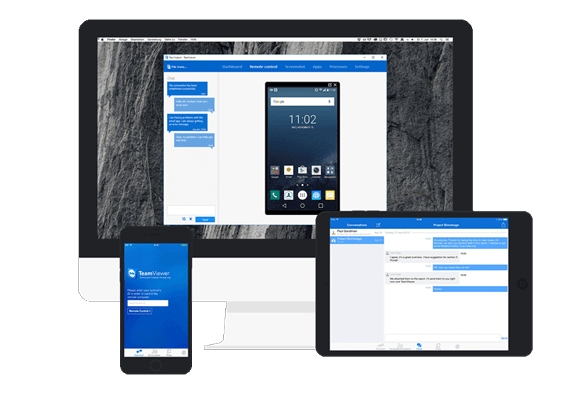 TeamViewer is a very popular software and has long maintained a strong position in the market. If you use this software for personal reasons, you will get it free of charge. But if you want to use it for business purposes, you will have to pay for it. As it shares the screen, it comes with many more features.
Because this TeamViewer is popular worldwide, it is available in more than 30 languages ​​for public convenience. It can work on a number of platforms, including Windows, Linux, Mac, iPhone, iPad, and Android. In addition to screen sharing, you can easily share videos and audio with other participants. TeamViewer supports file sharing, chat, and whiteboard functionality.
2. Screen Leap
Screen Leap is a very good screen sharing software, built on the intimidation of Javascript. In this "one-click screen sharing" software you will get both free and paid plans. If you are a free user, you can share the screen with up to 8 people a day for 1 to 2 hours.
Apart from this, you will get nothing more than a free plan That free plan is enough for those who can complete their work within a short period of time, but if you want to use the benefits of screen sharing for business and heavy work, you need more flexibility.
I will not recommend this software for them. Unable to work on Mac automatically since it is built on JavaScript. However, they have separate applications for Mac users.
3. Skype
This service is also very popular and also old. You've probably used the service frequently to video chat with friends, family, and co-workers. But what you do know is that you can even share your computer screen. Yes, in the beginning, you had to pay for this screen sharing service or get a subscription plan, but it has been serving for free since a few years ago. This means that you can enjoy this screen sharing service for free without having to open an account on Skype.
Also, You can send files and share your screen with individuals or a group. If you're already used to Skype for messaging, video chat and calls, give this screen-sharing feature a try.
4. Show My PC
ShowMyPC's mission is to offer "free and integrated collaboration tools for all users," according to its website. Download the free software, then after launching it, you can create a password to pass on to other participants. Alternatively, if you are trying to log into a meeting, you enter the code in a box and you will be taken to the meeting. Users can chat and take screenshots with the free service, but if you want to share files, switch presenters, or record meetings, you have to pay a subscription fee.
5. MingleView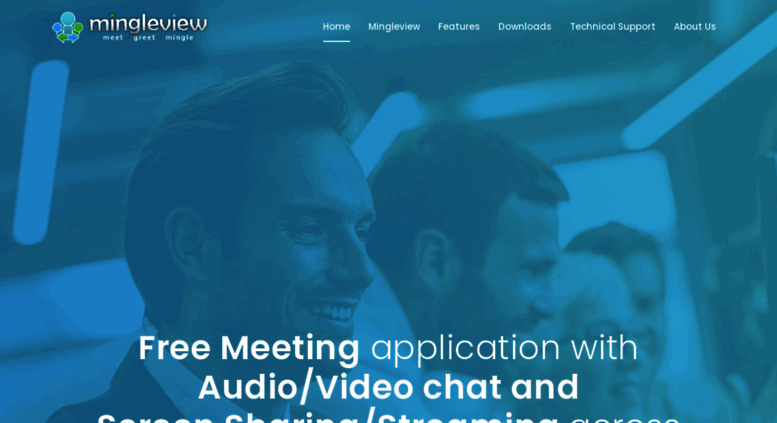 This service is completely free, so you will not be upgraded every time you launch the program with Mingleview allowing for unlimited attendance, unlimited meeting hosting, no installation, peer-to-peer secure protection through SSL, and port forwarding or firewall No configuration required. The only hurdle is for Windows users only, so if you're trying to share a screen with someone on a Mac, you're out of luck.
6. Join.me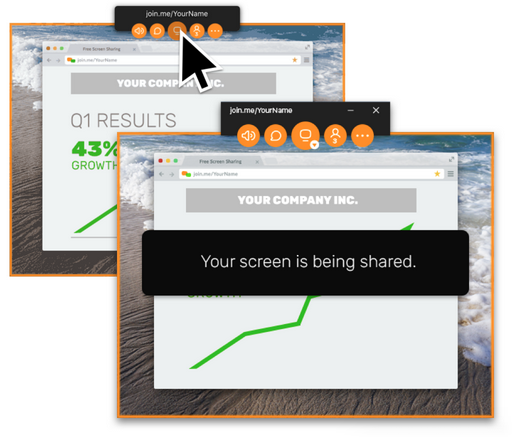 Another popular screen sharing software is Join.me. This software is mostly used for official purposes. This software is very much easy to use and you can get a hassle-free experience especially at your office meeting.
If you are unable to attend the meeting physically, this software can easily make to join that meeting with screen sharing features. Also, this is free for basic screen sharing features, and have the capability to invite up to 10 participants.
To use this just download the desktop app first, after that all the processes are simple and you can easily do that. In the free version, you can transfer files, share controls and have up to four whiteboards on the iPad app.
7. Google Hangouts
We usually use Google Hangouts for a chat and video calls, but you can share your screen using this Google Hangout. It's a completely free service and you only need a Google Account to use it. I myself also use this Google Hangout to virtually complete all the official meetings. That's mean it one of the best free screen sharing apps.
8. Vyew
The Vyew includes a free account option that does not restrict you to other services but does include ads and fewer participants in one room at a time. It's a browser-based service and it offers some unique options.
Vyew allows users to change interface colors and logos for branding purposes, publish meetings on your website or directly by URL, and also features "always-on" meeting rooms. Continuous or "always-on" meetings allow you to log in at any time, catch up with what happened, and it will automatically save and archive the meeting. The service has interesting and unique features. You can find a complete list on the website.
9. Mikogo
It's also a browser-based screen sharing service. You don't even need to download anything to use Mac, and you don't even need Flash software. It's free for personal use, and in this free account, you get unlimited meetings, phone conferencing and VoIP.
But its free account also has some limitations, such as you can't record meetings, use whiteboards, and can't attend more than 3 simultaneously. It works on PC, Mac, Linux, as well as iOS and Android devices.
10. Apache OpenMeetings
Apache OpenMating is a free browser-based service that helps you connect with others on the web. There are no limitations to using it as a feature. It has audio, video, document sharing, messaging, screen sharing, whiteboards and the ability to record your meetings, all of which are very useful for any of your meetings. That means if you need to host a meeting in a virtual way, there is no better option than this.
11. Zoom
If you want to share your screen with many people at once, this Zoom software is best suited for you. If you have a free account, you can share the screen with up to 25 people at a time, as long as you want.
That is, if you need to make an official meeting in the event of an emergency, then you and the rest of your college will be able to remotely complete the meeting or perform a project at home. You can also get the benefit of a conference call for about 40 minutes if you need it.
12. AnyMeeting
The free account of animating provides support for up to four participants with several useful features. Users can make video conferences, make unlimited meetings, make a conference call, use VoIP calling, take meeting notes, chat, send a private meeting URL to attendees, in addition to syncing with Google Apps and Outlook. You can share YouTube videos during the meeting. This is a great option if you need to have regular screen-sharing meetings with four participants or fewer.
13. Messages
For Mac users, you can share your screen directly through the Messages application. Similar to Windows Remote Assistance, you can also remotely take control of another Mac using this feature. Just choose the "Ask Share Screen" feature from the options menu, and the other user simply needs to accept the request. Again, it's probably not a great long-term screen-sharing fix, but it will get the job done if you need to quickly share your desktop with another Mac user.
14. Windows Remote Assistance
This Windows Remote Assistant is commonly used to resolve a problem on a user's computer remotely. There are also many other functions of this remote assistant, but this one is more important. It lets you share your computer screen with another user, but if you want to work regularly with this screen sharing, I can say that this remote control not very useful.
But if you need a quicker way to the last minute, you can try it out. This Windows Remote Assistant does not require you to download or buy it separately, it is already built into your system.
15. Remote Desktop
Remote Desktop Connection allows you to have full control of the remote computer its means to share your entire desktop (including access to Keyboard and mouse desktops, documents, programs, etc.), while Windows Remote Assistance allows you to partially control your own computer. So if you want full remote access of some other PC, then you have to use Remote Desktop. Also, you can get remote support if you need help.
Here is the software that I have seen myself using. Also if you have any other software of your choice, please let me know, I will add it to this article.
If you liked this article, please share it with your friends on Twitter and Pinterest.